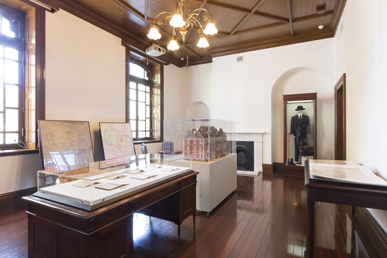 This display area illustrates the reconstruction
of Mitsubishi Ichigokan and the history
of the Marunouchi district.
About the Displays
An office in the old Mitsubishi Ichigokan has been
recreated as it would have appeared in the late nineteenth century.
The Meiji-period atmosphere is conveyed by the plastered walls,
coffered wooden ceiling, and authentic décor.
Reproductions of the office furniture
Josiah Conder, the British architect who designed Mitsubishi Ichigokan, not only taught modern architectural design, but also trained craftsmen to make Western-style furniture for the buildings that he and his apprentices created. He also supported the makers of "Shiba furniture," the Western-style furniture actively produced in the Shiba district near present-day Shinbashi Station in Tokyo's Minato City. Based on historical records, the replicas on display were made by woodworkers who carry on that tradition.
The Dollhouse
This 1:40 scale model is a detailed recreation of the original Mitsubishi Ichigokan at its completion in 1894. At one end an architectural cross section reveals the building's basic structure. In the banking department, the scene of staff and customers attending to business has been recreated from contemporary records. If you look closely through the opening into this hall, above the second-floor walkway you can see the mask of Okame, the smiling goddess of mirth, that used to hang on the wall of the bank—a reminder of Mitsubishi's founder Yataro Iwasaki, who is said to have used it to teach the staff a pleasant manner in the company's early days.
Display Screen 1
"Marunouchi: The Trajectory of an Urban Space" (movie time approx. 3 minutes 30 seconds)
At the touch of a button you can follow the story of the Marunouchi district through time, from the Edo period's Keicho era (early seventeenth century) to the present. The progress of urban development after Mitsubishi Ichigokan was completed in 1894 is particularly striking.
Display Screen 2
"Records of the Restoration of Mitsubishi Ichigokan"
You can select topics such as the bricks, stonework, cast metal, and the roof frame, and view short films documenting the restoration process.
The Meiji businessman's style
At our request, old Ginza establishments have recreated the sartorial style of the Meiji businessman (suit, shirt, hat, briefcase, shoes).
Other exhibits
Original plans of the Mitsubishi Ichigokan
You can leaf through full-size laminated replicas of the blueprints and drawings.
Photographic panel displays of the old banking department and town plans of Marunouchi then and now
Hours
10:00–18:00
Please note that additional closures may be announced from time to time.
Location: 1st floor, Mitsubishi Ichigokan Museum
Admission free.
Closed
Mondays (except when Monday is a national holiday during the exhibition or final week of exhibitions), year-end holiday, January 1.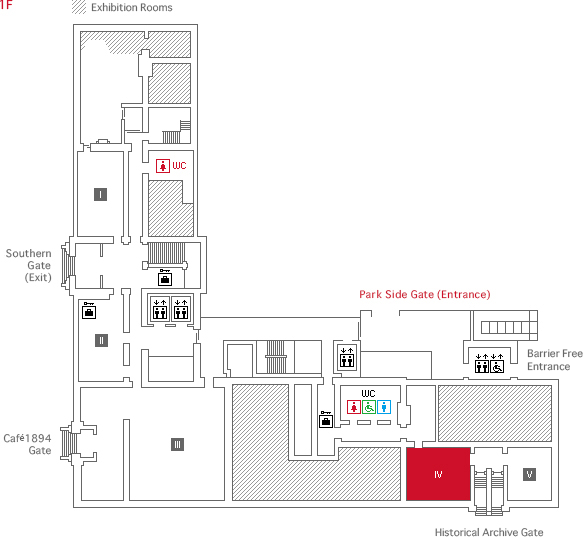 Store1894
Ticket counter
Café1894
Mitsubishi Ichigokan Archive Room
Mitsubishi Center Degital Gallery