Recommended preparations for visitors
■Recommended clothing

①Stole or cardigan
Please bring a stole or cardigan if necessary.
To protect the artworks, the air temperature of the gallery is maintained at about 21º C in accordance with international standards. Some visitors may feel cold at this temperature and the gap between indoor and outdoor temperatures is especially large in the summer.

② Comfortable shoes
Shoes with soft soles are recommended to reduce fatigue and the noise of steps. Chairs are provided so that visitors can rest as it takes about one hour to view all the exhibits.
■Access
Useful access routes are introduced here.
■Tickets
There are two ways to buy tickets: 1. Buy them at the ticket counter on the day of the visit; or 2. Buy them before the day of the visit at a convenience stores or other store. Details and methods of buying tickets are explained on each exhibition page.
Guidance
■Route in the building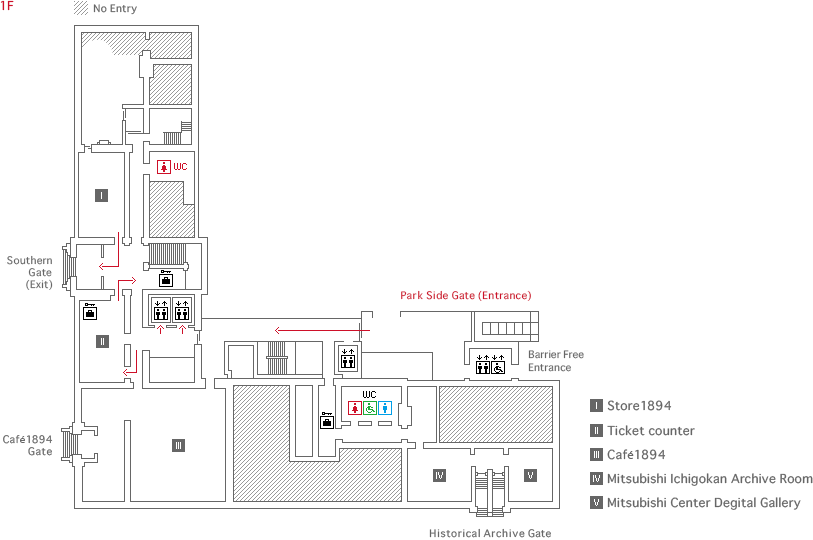 Required Time: Approx. 1 Hour
Enter from the park-side gate.
Enter via the automatic door and walk straight ahead.
Buy tickets at the counter. *If you buy tickets at a convenience store or other store, you have to exchange them for QR code tickets at the ticket counter of the museum.
Three lockers are located on the 1st floor. Locker B (blue area) is relatively unoccupied and convenient to use.
Show tickets to the staff at the ticket checking point. Please take the elevator to the 3rd floor where the exhibition starts.
The route in the building is shown here.
Store1894 (museum shop) is the last place to reach after viewing the exhibition. For the museum exit, please turn right after passing through the shop.*Please be sure you retrieve your umbrella and baggage from the locker.
■Restrooms
Women's restrooms are located on the 1st and 3rd floors.
The men's restroom is located on the 2nd floor.
■Tools for deeper understanding of the exhibition
Audio Guidance・・・Audio guidance is available for an additional charge.
List of artworks・・・A list of artworks is set up at the entrance to the exhibition rooms.
■Loan of equipment
Wheelchairs
Baby cars
Pencils
Stoles
■Requests to Visitors
Please refrain from using ballpoint pens and automatic pencils. Please use a pencil when you take notes.
(This rule is to protect artworks from scattered lead from automatic pencils and ink of ballpoint pens. Thank you for your understanding and cooperation.)
We loan pencils. Should you need one, please ask a member of the museum staff.
Eating and drinking are prohibited in the exhibition rooms.
Please refrain from talking in a loud voice.
After enjoying the exhibition
Shopping at the museum shop
Original goods related to exhibitions are available at the shop.
Store1894
Resting in the cozy museum café
In the café you can enjoy dishes that are related to items in the exhibitions.
Café1894
Other services provided in the neighboring area
Some stores offer special services when you show our museum tickets. Please view detailed information here.